Virtual Mathcamp
In response to the COVID-19 pandemic, in the spring of 2020 we pivoted quickly from our traditional residential program to running an online version of Mathcamp for five weeks that summer. In designing Virtual Mathcamp, we didn't try to replicate the residential experience: this would have been impossible and counterproductive. Rather, being the mathematicians that we are, we started from first principles—what makes Mathcamp Mathcamp—and thinking about how we could adapt what matters most to an online format.
We built a brand-new Virtual Campus. To create the feeling of immersion in the atmosphere of Mathcamp, we built our own platform to host the program, and commissioned an architect and visual artist to design a story-book campus for us. Every space on the campus is interactive, and includes embedded video chat that hosted our classes, events, and informal hanging out.
Our Virtual Campus was Mathcamp's home for two summers in a row – virtual Mathcamp took place in both 2020 and 2021. Upon return to a residential format, we still hope to visit our Virtual Campus sometimes – for example for online reunions!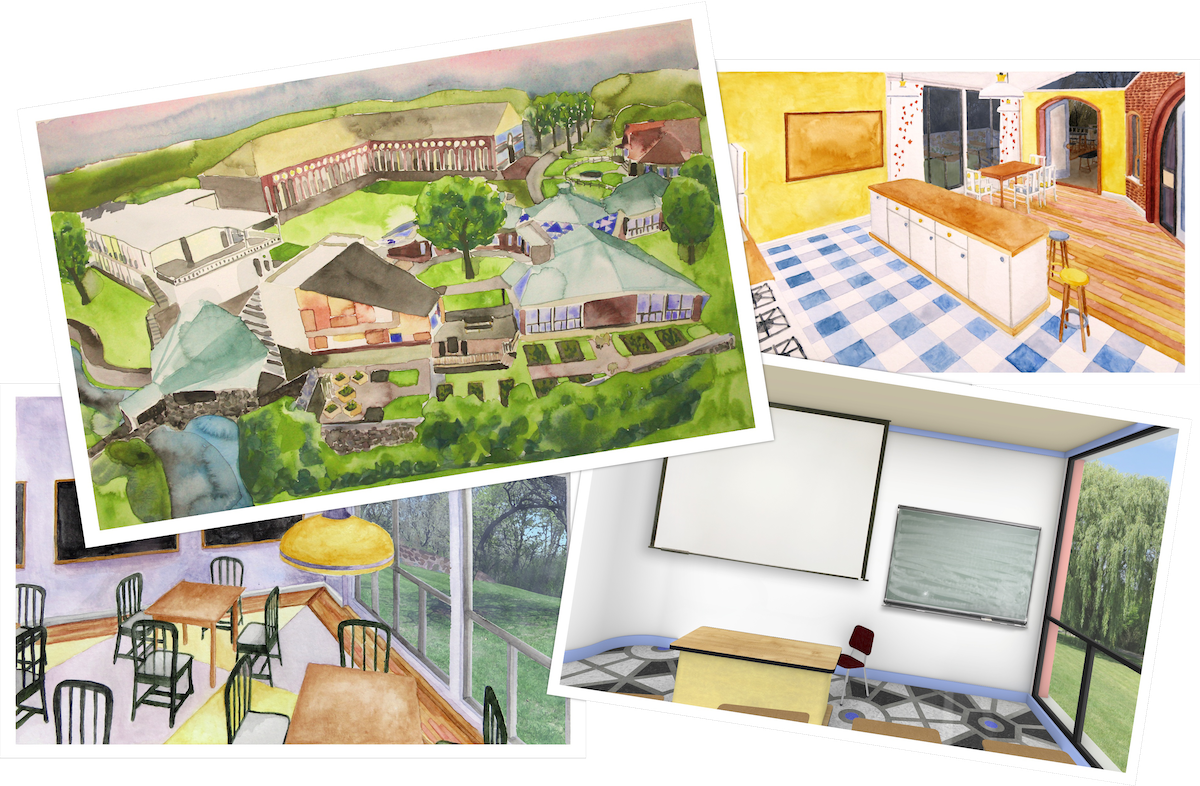 The Virtual Mathcamp "week" was set to align with the work weeks of other household members. Classes met Monday through Friday; our "Field Trip" day was Saturday, and we all took Sunday off to spend with our families. During the week, our mathematical time was roughly 9am to 3pm Pacific Time (or "Mathcamp Standard Time," if you prefer), and a typical day looked like:
| | |
| --- | --- |
| 9am | First class block |
| 10am | Second class block |
| 11am | Break for meals |
| Noon | Third class block |
| 1pm | TAU |
...but there really is no such thing as a typical day at Mathcamp. We offered an enormous variety of options, and every day at Virtual Mathcamp was filled with various activities. Outside of the academic schedule, our wide slate of mathematical opportunities—academic advising meetings, Projects (and a Project Fair), Team Problem Solving, and Relays—all became part of Virtual Mathcamp.
Outside of academics, we adapted many favorite Mathcamp traditions to the new format. We had our virtual schedule board, on which everyone could post activities they wanted to run. The community came up with so many ways to connect: on our virtual campus; by video chat; on slack; talking on the phone while taking walks ("Mathcamp Strolling Partnerships"); and even by mailing one another postcards. We made pancakes together; went bowling with blue tape and markers; held an anti-racism book group; recorded songs together (and did some so-bad-it's-good Zoom karaoke); played and ranked 90 different variations of solitaire. The JCs created amazing virtual field trips, and as always, we had a day-long Puzzle Hunt.
Of course, as with any new endeavor, we didn't know whether it would work. But it absolutely did! At the end of the 2020's program, here's how one of our students described the experience:
"
VMC was by far the brightest five weeks I've had during the pandemic. The teaching was top-notch, the schedule flexible and accommodating, and the culture vibrant and accepting. Looking back, I could never have imagined just how emphatically we bridged the physical distance between us to build a weird and wonderful world!
"